Letterkenny
'Shoresy': The Real NHL Players Who Star in Hulu's New 'Letterkenny' Spinoff
Fans of the TV show Letterkenny were excited to hear that the popular Canadian sitcom would be getting a spinoff this year. Shoresy follows a ragtag hockey team as they attempt to become champions. However, did you know the cast includes some actual NHL players?
The story of 'Letterkenny' spinoff 'Shoresy'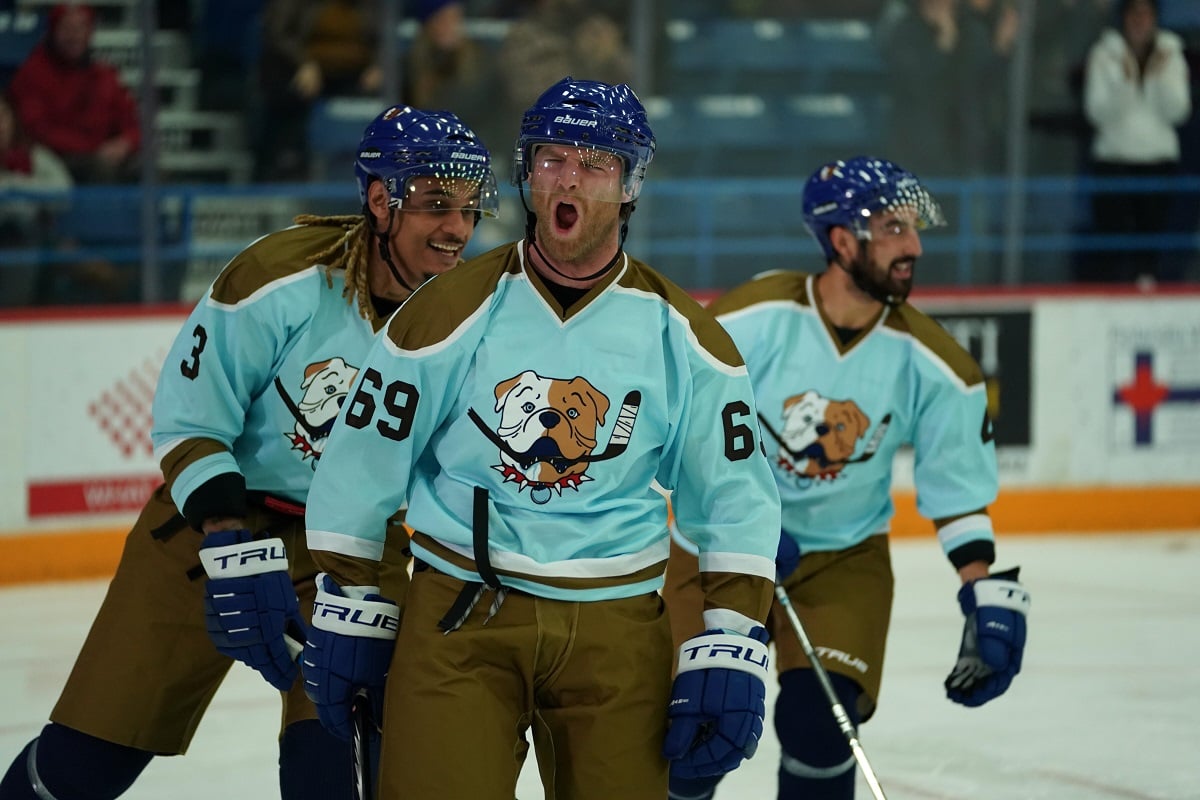 Shoresy follows the character of Shore (known as Shoresy), a fan favorite from Letterkenny. Letterkenny began as a YouTube series but got picked up by Canadian network Crave in 2015. An eleventh season drops on Hulu, which acquired the U.S. distribution rights to the show.
Jared Keeso created both shows. He also plays the part of Shoresy. The character is a hockey player with a dirty mouth who plays for the Letterkenny Shamrocks hockey team. His face is typically not shown; audiences see him from behind in the shower, wearing a tinted face shield on his helmet, or heard from inside a bathroom stall.
Shoresy left the fictional town of Letterkenny at the end of season 10, which aired in 2021. The Sudbury Bulldogs then recruited him. Shoresy sees him make a bet that the losing hockey team will never lose again if he's given the chance to coach. The show follows him and the rest of the team as they attempt to become winners.
The real-life NHL players starring in 'Shoresy'
With a show centered around hockey, it's no surprise that some NHL players were tapped to star in the show. Brothers Brandon and Jordan Nolan, who have since retired from their professional hockey careers, will play Jim #2 and Jim #3, respectively.
"It's just crazy … I was just, like, this can't be real. Like, I'm a hockey player, I'm not an actor. I'm like, 'what the heck would they want us for?'" Brandon Nolan told NHL.com. "[I'm] just honored to be a part of it."
Jim #1 is also played by an ex-hockey pro. Jon "Nasty" Mirasty spent time in the minor leagues, playing for the United Hockey League's Danbury Trashers. Jonathan-Ismael Diaby, a former Nashville Predators draft pick, stars as a player named Dolo.
Terry Ryan, who played just eight games in the NHL before suffering a career-ending injury, will use his hockey and acting skills on the show. After leaving the world of hockey, Ryan launched an acting career. His role as Ted Hitchcock on Shoresy is his latest acting gig.
"It's [a] camaraderie. In the show, there's people in the room telling stories and then playing tunes and chirping and then as soon as they say, 'Cut,' we put on our own tunes, tell our own stories, and start chirping," Ryan shared. "It's wild how it all went down…I hate to overuse the word surreal but that's exactly what it is."
How the NHL stars are contributing their knowledge to 'Shoresy'
The show puts their former-hockey-stars-turned-actors' experience to good use, from opinions on playing to characterizations. All the players wear their former numbers on their jerseys for the show.
"We all played a little bit of pro hockey, so I think they were kind of just happy with what they saw and asked for input,'" Jordan Nolan said. "I think they kind of leaned on us a little bit to make it more realistic."
Shoresy premiered on Canadian channel Crave in May 2022 and dropped on Hulu for American fans later that month. Fans of Letterkenny love the new show and are excited to see some former NHL stars bring a little authenticity to the hockey-centered sitcom.