Prison Break
Prison Break actor Wentworth Miller comes out as gay, rejects invite to Russian film festival
PRISON Break star Wentworth Miller has come out as gay, turning down an invite to a Russian film festival in light of the country's new anti-gay laws.
WENTWORTH Miller has confirmed he's gay.
The Prison Break star has faced speculation about his sexuality for some time, but has previously denied the gossip.
Now the 41-year-old has spoken out for the first time, following an invitation to the Saint Petersburg International Film Festival in Russia.
"As someone who has enjoyed visiting Russia in the past and can also claim a degree of Russian ancestry, it would make me happy to say yes. However, as a gay man, I must decline," he wrote in an open letter on GLAAD's website.
The actor expressed his concern about the current situation for homosexual people in Russia, saying he feels so strongly about the issue that he cannot imagine travelling to the country.
"I am deeply troubled by the current attitude toward and treatment of gay men and women by the Russian government. The situation is in no way acceptable, and I cannot in good conscience participate in a celebratory occasion hosted by a country where people like myself are being systematically denied their basic right to live and love openly," he continued.
"Perhaps, when and if circumstances improve, I'll be free to make a different choice."
Miller, has had no high-profile relationships, which has always caused speculation.
Previously he spoke out about the rumours.
"I'm not gay, but that rumour can't be killed," he is quoted as saying at the time.
"I know these rumours are out there … I'm cool with the fact that they exist, I mean this is about fantasy. Certain people are going to have certain fantasies, if someone wants to imagine me with a woman, or a man or one of each that's cool with me as long as you keep watching the show."
Miller is best known for playing Michael Scofield in Prison Break.
His first screenplay, Stoker, was released earlier this year, starring Mia Wasikowska and Nicole Kidman.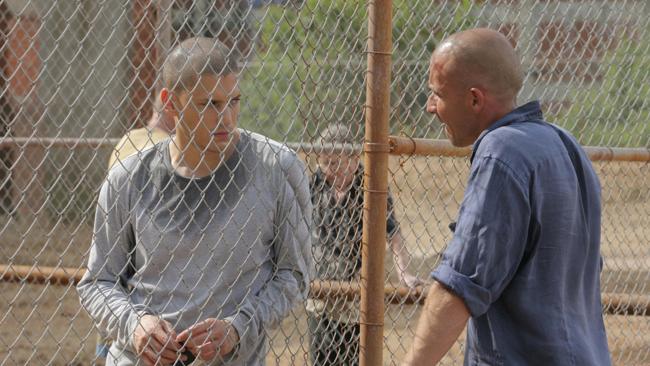 Wentworth Miller and Lincoln Dominic Purcell in a scene from TV series Prison Break.