Charmed
How The Cast Of The Original Charmed Really Feels About The Reboot
Having run from 1998 to 2006, the WB series, Charmed, has since become somewhat of a cult classic. The series followed three sisters who happen to be the most powerful of the good witches in the world — they're known as "The Charmed Ones." The three of them combine forces, using their "Power of Three" to fight against evil and protect the lives of innocent civilians in San Francisco, California. They maintain a disguise of normalcy to try to live somewhat normal lives. The three sisters are Piper Halliwell (Holly Marie Combs), Phoebe Halliwell (Alyssa Milano), and Prue Halliwell (Shannen Doherty). In the third season finale, Prue tragically dies and is soon replaced by another long-lost sister, Paige Matthews (Rose McGowan), to complete their "Power of Three." The show ran for eight seasons, with the series finale, "Forever Charmed" airing in May 2006.
In 2018, it was announced that a reboot of the series developed by Jessica O'Toole, Amy Rardin and Jane the Virgin creator Jennie Snyder Urman was officially happening on The CW (via The Hollywood Reporter). The cast was announced later that year and proved to have a more diverse lead cast than its predecessor (via AP News). The new series premiered in October 2018 and is now in the midst of its third season. Much like the original series, it follows three sisters — Macy (Madeleine Mantock), Mel (Melonie Diaz) and Maggie (Sarah Jeffery) — with magical powers who use their "Power of Three" to protect innocent people from evil. In this version, the trio discover their powers after the death of their mother.
While many fans of the original series were likely ecstatic to get a new, updated show reminiscent of the original, beloved series, a few notable people were less excited by the idea — the original cast.
McGowan and Combs express discontentment in a TikTok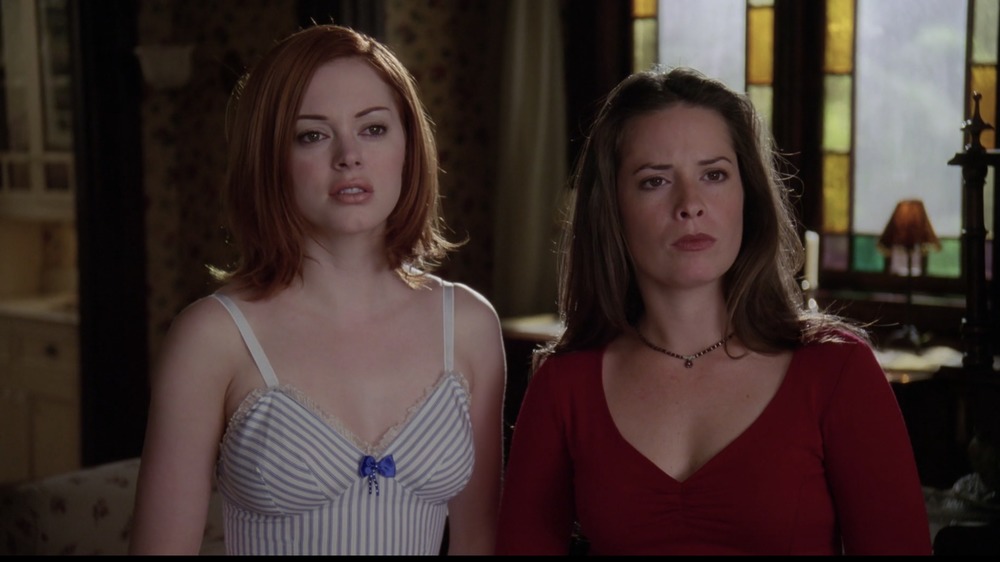 In a TikTok video, which can be viewed on Twitter, former co-stars Holly Marie Combs and Rose McGowan are sitting together and discussing the new show. McGowan then expressively announces that it "sucks." She then adds, "I haven't seen it, I can't say that. I've never seen it." After Combs — seemingly jokingly — says she didn't hear her co-star, McGowan repeats, "I said it sucks!" Before the video ends, McGowan adds, "But I'm happy people have jobs. But it can still suck."
Combs elaborated on the idea of the reboot creating jobs when she addressed the matter again on Twitter (via Entertainment Weekly), where she posted a screenshot of a statement she gave to a journalist. Her statement begins, "Let me say first that I appreciate the jobs and opportunities the Charmed reboot has created. But I will never understand what is fierce, funny, or feminist in creating a show that basically says the original actresses are too old to do a job they did 12 years ago. I hope the new show is far better than the marketing so the true legacy does remain."
Combs is referencing the official description of the reboot as a "fierce, funny, and feminist" update to the show (via TV Overmind). She seems to be taking issue most with the description dismissing the original and insinuating that it isn't feminist, as well as she and her original co-stars not having any involvement. Her statement continued, "Reboots fair better when they honor the original as opposed to taking shots at the original. Reboots also do better when they listen to a still passionate fan base which is what it's all about, isn't it? That's why we do reboots. The fans are why we all get to do what we do. So we wish them well and hope for success.
Doherty also expressed her mixed feelings
The WB
Shannen Doherty also spoke about the situation while chatting with fans on Twitter (via EW). Like Combs, Doherty's main issue lies with the wording of how the reboot is described and what it alludes to about the original. When a fan pointed out how the description seemingly pits the two shows against each other, Doherty replied, "You nailed it. Their wording is terrible and a bit offensive. But, everyone makes mistakes. Perhaps with the backlash they will be more thoughtful in future." In a reply to another fan, she added that the wording of the description is "a very ignorant stupid comment."
While corresponding with fans, Doherty also addressed the positive aspects that come with this reboot. When a fan pointed out that the reboot meant "more great roles for women," Doherty responded, "Exactly. More great roles for women. That's a huge plus."
She also addressed another positive that could come out of the new series, saying she's "intrigued by the idea that a new generation might be comforted, inspired like all you were. Charmed helped us all in some way."
All in all, Doherty seems to have pretty mixed feelings on the matter. Meanwhile, her co-stars, Combs and McGowan, are not the first actors to slam reboots of their shows.