Uncategorized
Kurt Sutter Net Worth: Where Does the 'Sons of Anarchy' Creator Rank Among the Cast?
Kurt Sutter's Sons of Anarchy still ranks as one of FX's most popular shows in the history of the network. The series ran for seven seasons with Charlie Hunnam leading the way as the show's main character, Jax Teller, and it remains as popular as ever on streaming services like Hulu. While Sutter was the brains behind the operation, his net worth is not as high as some of the cast members. So where does Sutter rank among the wealthiest Sons of Anarchy stars?
What is Kurt Sutter's net worth?
Sutter is estimated to be worth around $10 million. Prior to creating Sons of Anarchy, Sutter worked on the popular series, The Shield. He served as a director, writer, and producer on the series.
He also appeared on SOA as Otto Delaney and launched a spin-off from the show called Mayans MC. In between SOA and Mayans MC, Kurt Sutter developed a show called The Bastard Executioner, which only ran for one season of FX.
Sutter has made the bulk of his fortune through writing and producing. Although he has amassed an impressive fortune over the years, he is hardly the wealthiest person associated with the original biker drama.
Who was the richest cast members of 'Sons of Anarchy'?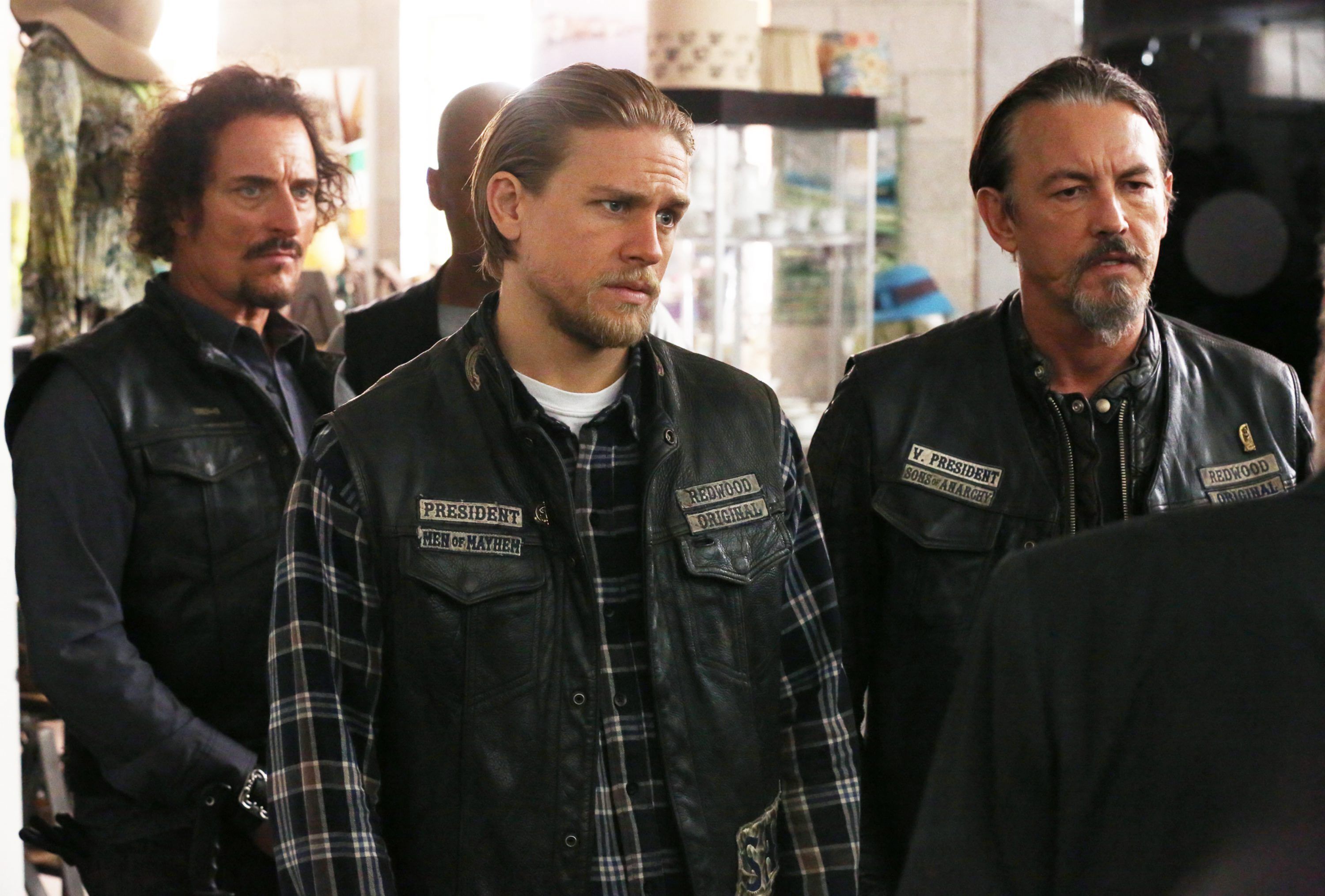 There are three cast members who have a higher net worth than Kurt Sutter. This includes Ron Perlman, Charlie Hunnam, and his wife Katey Sagal, all of whom have impressive careers outside of the show.
According to The Richest, Perlman is worth around $15 million. Going into the series Perlman was already popular with fans, mostly because of his work with Guillermo del Toro in Hellboy. He played the part of Clay Morrow, who proved to be one of the show's biggest villains.
Hunnam is slightly ahead of Perlman at a $16 million. Charlie Hunnam was easily the driving force behind the success of SOA and has since starred in a number of blockbuster films. This includes King Arthur: Legend of the Sword, Triple Frontier, and The Lost City of Z.
Sagal, meanwhile, is the richest cast member of SOA with a net worth of $30 million. Prior to SOA, Sagal was best known for her work in Married with Children, though she also has a successful career singing.
Kurt Sutter leaves the 'Sons of Anarchy' universe
Despite being the person who created Sons of Anarchy and Mayans MC, Sutter recently confirmed that FX and its parent company, Disney, had fired him from the spin-off.
We still do not know for sure why Disney decided to give Sutter the boot, but he believes that a joke may have been the reason. Kurt Sutter recently revealed that he wrote a joke about Disney for the season 2 premiere of the spin-off and was later asked to remove it.
But instead of taking out the joke, Sutter modified it so that it was not as harsh. A few weeks later, Disney decided to fire Sutter anyway, and the show continued on under the leadership of Sutter's co-creator, Elgin James.
Fans have not reacted well to Kurt Sutter's removal, though it sounds like he already has a few plans in mind for future projects.
What will Sutter do next?
In light of Kurt Sutter's exit from Mayans MC, many fans wanted him to take the franchise to another network and continue the story there. Unfortunately, Disney owns the rights to Sons of Anarchy and Mayans MC, so moving it is not an option.
To make things even worse, Sutter is still under contract with Disney, which means he cannot do much until the agreement has run its course.
With that in mind, Sutter recently took to social media and assured fans that he will be developing another series down the road – and it has something to do with Harleys.
"Wanna thank folks for their support and kind words over the last coupla months. I appreciate you," Sutter shared. "You've asked, what's next? Can't discuss anything until I've respectfully cleaned up things at Disney. Hopefully in the new year I can bring you up to speed. It involves Harleys."
We have no idea what Kurt Sutter has planned, but he cannot do anything with the Sons of Anarchy universe unless Disney lets go of the creative rights.