Over the last few years, actor Priyanka Chopra Jonas has worked to establish her name among Hollywood's A-listers. After she starred on ABC's Quantico, the star got mainstream recognition, which made her the first actor of South Asian descent to lead in an American series. When Quantico debuted, most people didn't know that Chopra Jonas was a huge deal in India. She had contested in the Miss India pageant and won Miss World. She followed her modeling success with an acting career in Bollywood.
Aside from being a highly sought-after actor, Chopra Jonas is also an activist and advocates for equal rights for women, hunger, and education. Although most people like knowing about Chopra Jonas, one question she gets asked often is whether she is related to renowned author Deepak Chopra. So are Chopra Jonas and Deepak related?
Chopra Jonas won Miss World because of her mother
Chopra Jonas was born in July 1982 to Madhu and Ashok Chopra. As a child, Chopra Jonas moved around a lot because of her parent's professions. Both her mother and father were doctors, which forced them to move around very often. The actor attended her 10th grade in Boston, where she recalled being bullied and heartbroken and wondering why it was "so uncool being Indian." The Chopra family later moved back to India, where Chopra Jonas began transforming from a "carefree tomboy" to a "gorgeous female" who attracted many boys.
Chopra Jonas' change in appearance led to her father putting bars on their home's windows to keep the boys out. In 2000, Chopra Jonas' mother entered her into a beauty pageant called Femina Miss India. She placed in second but went on to win the Miss World pageant. The model had enrolled in college, but her Miss World win led to her deciding otherwise. In 2003, Chopra Jonas appeared in her first Bollywood movie called The Hero: Love Story of a Spy.
Later that year, the former Miss World appeared in Andaaz, playing a cheerful young girl who falls in love with Akshay Kumar's character. Since then, Chopra appeared in 50 more Bollywood films before appearing in Quantico, where she played the lead Alex Parrish. Chopra Jonas' recent projects include We Can Be Heroes, Isn't It Romantic, and The White Tiger.
Who is Deepak Chopra?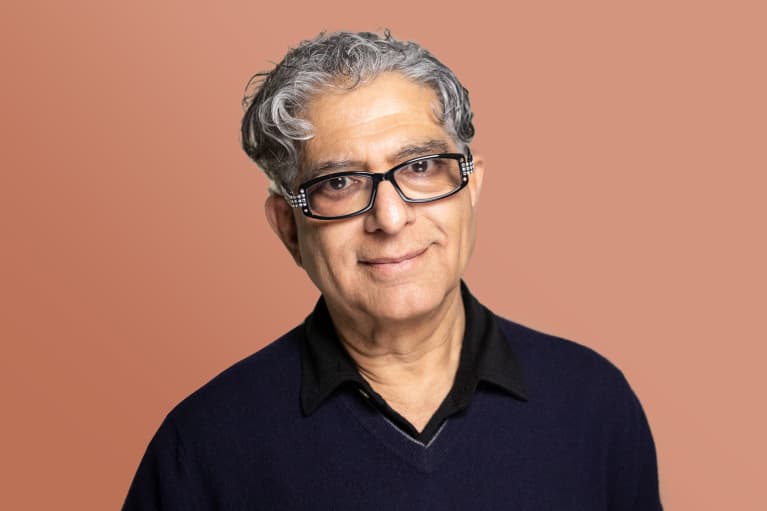 Deepak was born in New Delhi to Pushpa and Krishan Lal Chopra. Deepak attended St. Columba's school and graduated from the All India Institute of Medical Science. He spent his first six months working in rural India as a doctor. During his time, he developed an interest in studying endocrinology. He married in 1970 before moving to the US with his wife. During that time, India had banned its doctors from taking the exam that would allow them to practice in the US.
Deepak, therefore, moved with his wife to Sri Lanka and later to the US. Deepak completed his residencies in internal medicine at the VA Medical Center, Lahey Clinic, Beth Israel Deaconess Medical Center, and St Elizabeth's Medical Center. In 1973, Deepak earned his license to practice medicine in the state of Massachusetts. Deepak is a prominent figure in the New Age movement. His videos and books have established him as one of the wealthiest and famous figures in alternative medicine.
Is Priyanka Chopra related to Deepak Chopra?
Although they share the name Chopra, Deepak and Chopra Jonas are in no way related. In a promotional interview for the movie Isn't It Romantic alongside actors Rebel Wilson and Adam Devine, Chopra Jonas admitted that she gets asked if she is related to Deepak a lot. The star, however, explained that Chopra is like the name 'Smith' in India, meaning that it is a very common surname. She said she and Deepak don't know each other at all.