Uncategorized
Kim Kardashian Says Classmates Would Smack Her Butt in High School: 'It Was so Bizarre'
Kim Kardashian West has been in the spotlight for nearly two decades and is still going strong. Kardashian West, who has mastered the ability to effortlessly evolve into each new phase of her life with grace and style, certainly seems to have it all – beauty, money, a family who supports her, and close friends.
However, it hasn't always been easy for Kardashian West, and as she admitted in a recent in-depth interview with journalist Bari Weiss, she once faced some serious challenges when it came to accepting her curvy figure. 
What did Kim Kardashian West say about classmates smacking her butt in high school?
Kim Kardashian West might have helped popularize curvy bodies, but when she was growing up, it was ultra-thin models that were all the rage. In mid-December, Kardashian West opened up in a podcast interview with Bari Weiss, revealing how her high school experience shaped her own perceptions of her body.
As reported by Yahoo Entertainment, Kardashian West said,
" … it was all about heroin chic in the '90s. I had huge boobs when I was like 12 years old and I was always really curvy."
The reality star described how people would even touch her body inappropriately:
"I would walk by in high school and people would smack my butt. Everyone used to do that. It was so bizarre."
Kim Kardashian West opened up about body representation
Kim Kardashian West went on to explain how she didn't start to see body representation in the media until the end of her high school journey, telling Bari Weiss that,
"Nobody looked like me until the end of high school and then it was Jennifer Lopez and Salma Hayek, and I was like, 'That's it! I see it, I see it.' And it felt so good."
She revealed that as she pursued a high-profile career, it became even harder to find clothes that fit her properly. Kardashian West described how designers didn't send her clothes because they assumed the clothes wouldn't fit her. Kardashian West would ask the designers to send her the clothes anyway, promising that she could "squeeze" into them.
Kardashian West's marriage to Kanye West helped to solidify her space as a fashion force, and she began appearing on more magazine covers, with designers scrambling to dress her. In the end, of course, Kardashian West revolutionized not just pop culture but the fashion industry as well – and now, curvy models and entertainers are seen as the norm, rather than the exception.
Kim Kardashian West was inspired by her struggles to create her own shapewear line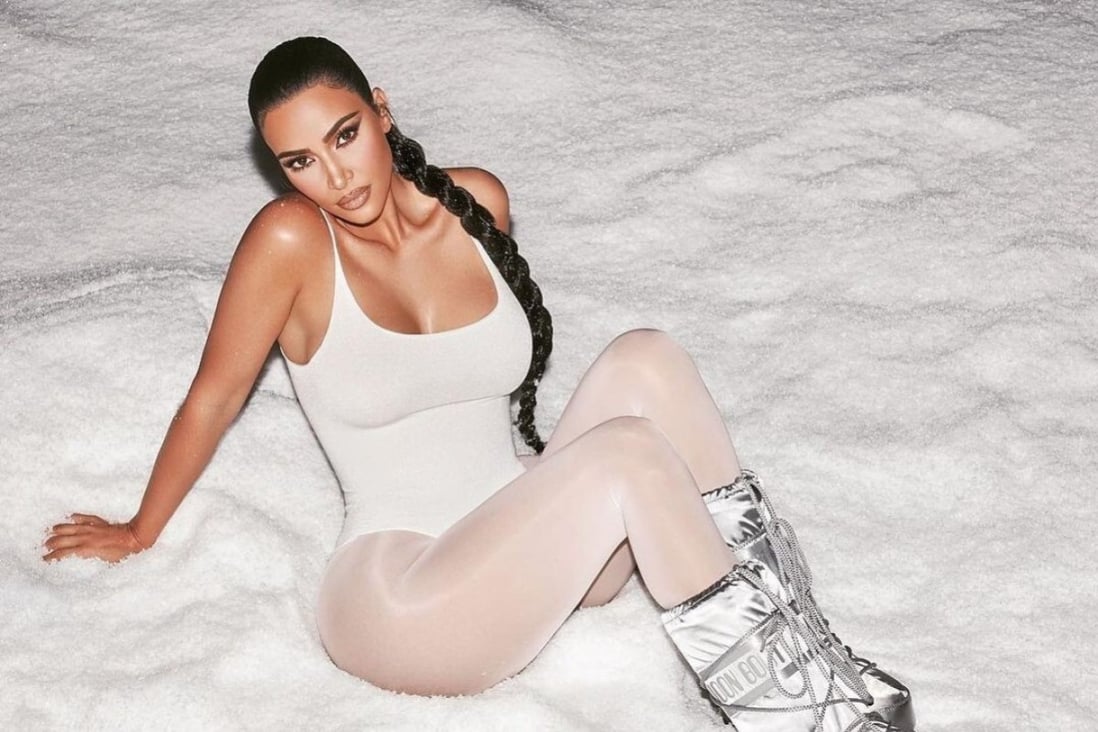 Along the way to becoming a pop culture icon, Kim Kardashian West was influenced to create at least one very special business. A longtime fan of shapewear, Kardashian West launched her shapewear brand SKIMS in 2019. Kardashian West told Bari Weiss that she wanted to create SKIMS in order to give people more options – and because she herself struggled to find the right shapewear for her body.
Kardashian West revealed that she could only find two colors of shapewear in store and that to get the right shade for her skin tone, she would dye the garments with tea bags in the sink. Kardashian West admitted that she is "proud" of SKIMS for being so inclusive, and for providing people of many different sizes high-quality shapewear options.
These days, SKIMS has evolved to feature not just shapewear and intimates, but activewear and loungewear as well, with multiple product drops every month on the SKIMS website. Although Kardashian West's influence on reality television and culture can't be denied, it is possibly her influence on fashion that could become the most impressive part of her legacy.