Uncategorized
Sons of Anarchy: 10 Couples That Would Have Made A Lot Of Sense (But Never Got Together)
In Sons of Anarchy, many of the characters never ended up with their one and only. But, it is fun to ponder abou these 10 unrealized couples.
Few couples in Sons of Anarchy could actually be identified as couples that were just made for one another. Many of the more memorable couples on the show were on opposite sides of the law, making the old saying opposites attract sound advice.
While many of the characters never ended up with their one and only, it is fun to ponder as to who would would have been the perfect match that was never thought of and what couples were so opposite, they would have evened each other out. So here it is, ten couples that were perfect for each other but never got together on the show.
10 Tig And Gemma
So this one isn't too far out there, since they did have a moment where they hooked up and almost had sex, if not for Tig's on again off again moral compass they would have done the dirty deed. Tig obviously cared for Gemma, he made that point clear many times in the show by being her shoulder to cry on when Clay was just too much.
While they would have made an adorable couple, Gemma wasn't about to give up her place as the matriarch of the club, for love, Tig or for anyone.
9 Cherry And Juice
After burning down her abusive husband's condo, she decided that she might find a suitable husband in a biker gang. Of course, this would seem like flawed logic, but to someone like Juice, her mind-frame would have been on the same wave length as his own. Juice and Cherry were both troubled souls, trying to live in a world that never truly accepted either.
So two outcasts trying to find their place in this world and, by doing so, found each other, sounds romantic, possibly in an illogical kind of way.
8 Lincoln Potter And June Stahl
Possibly the most obsessively minded match on this list. Both are sadistic masterminds, who basically have no line they will not cross and no moral compass to guide them in any positive direction. They both have jobs in law enforcement, yet, or more depraved than the bad guys they are trying to imprison.
Potter and Stahl believe themselves to be so manipulative that they believe they can bend others to their will and when that doesn't happen, they question everything they believe in. These two are an absolute perfect match of scheming architects of destruction that just belong together.
7 Nero And Wendy
Nero was a man trying to escape his troubled past, while working to bring out the best in the absolute worst of people. He even managed to find the good in Gemma, something even she was unaware of.
Wendy, a recovering drug addict with a good heart, was also trying to make amends for her less than admirable past. When they were onscreen together, they seemed to have chemistry but at the time, both were so caught up with the drama of their lost cause significant others that they couldn't see the person they belonged with was each other.
6 Lyla Winston And Jax Teller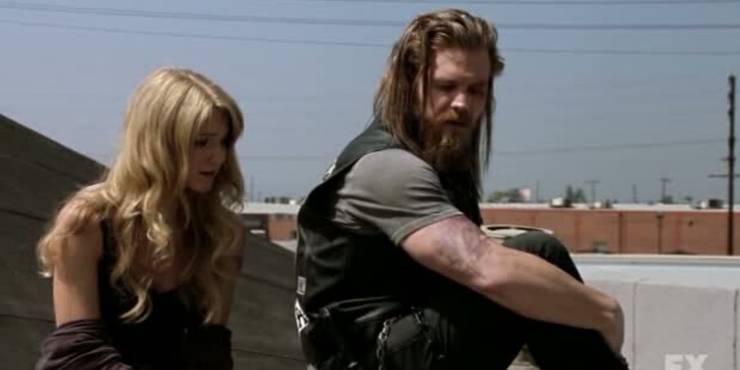 Tara was never a good match for Jax. She was overbearing, constantly forcing him to choose sides between his mom and her. Not to mention the fact, she was willing to give him to the feds in exchange for her own freedom.
While Lyla found a match in Opie but, did so at the worst possible time, since he wasn't done mourning the loss of his wife. Both of them cared deeply for Opie and when he was murdered could have found comfort in the arms of each other. Unlike Tara, she wouldn't of tried to change him.
5 Wayne Unser And Gemma Teller
When it come to the relationship between Wayne Unser and Gemma Teller, Unser was a textbook example of someone who was in the friend zone and couldn't find his way out, no matter what he tried. His love for her was true but, sadly, she perceived him as nothing more than a father figure.
He was a man that stood up for Gemma when no one else would. Even standing up to Clay a few times on her behalf. However, Gemma was addicted to power and unfortunately, Unser just didn't exude power.
4 Luann Delaney And Tig
Few might not even remember Luann as she only appeared in 11 episodes in season 1 and 2, being only a minor character that mostly interacted with Gemma. While her SAMCRO husband, Otto was given a larger role.
What makes her a great match for Tig is she literally made her name in the porn industry doing unbelievably taboo things, a trait that would be right up Tig's alley. Plus, Luann being the best friend of Gemma and Otto's wife, knew the ends and outs of club life and felt right at home in all the chaos.
3 Maureen Ashby And Chibs Telford
Chibs and Maureen both have deep connections to the True IRA, with Chibs once being a member and having an ex-wife that remarried one. While Maureen's husband, Keith Mcgee, President of SAMBEL had connections within the True IRA, connections that eventually led to his demise.
Before joining SAMCRO, Chibs was patched in by SAMBEL and knew Maureen from his time as a full member. They both grew up in Ireland and know the loss that comes from losing someone they love. Especially when it comes to losing those loved ones because of their True IRA pasts.
2 Halfsack Epps And Dawn Trager
Both Halfsack and Dawn met terrible ends that cut their time on the show too brief but, even though, they never shared a scene together, it is hard not to see how these two would have been perfect for each other. Dawn is upbeat, charismatic, familiar with the ways of the club and doesn't mind involving herself in criminal activity.
Halfsack is a surprisingly capable man, albeit in a quirky sort of way. Yet, after losing Cherry, he was lonely, so having a nice girl like Dawn to steal his credit cards might of been worth the trouble.
1 Candy Eglee And Wayne Unser
A former classmate of Jax Teller, Candy didn't have strong ties to SAMCRO but did go out of her way to tip them off when it came to warrants out for club members. Even though there was a large age gap between the two, Eglee and Unser seemed to have an onscreen connection. He even saved her life once.
Unser straddling the fence between his job as an officer of the law and his loyalties to SAMCRO wouldn't of bothered her. In fact, she would have loved to be a part of that connection.