Chuck Norris
The Funny Story Behind Why Steve McQueen's Driving Terrified Bruce Lee
Bruce Lee, who battled all sorts of foes as an actor and martial arts legend, wouldn't get in a car with Steve McQueen at the wheel after one particular incident in 1968.
Before his death at the age of 32, Lee wanted to buy a Porsche like McQueen. And unbeknownst to him, "The King of Cool" actor known for his driving skills, wanted to deter him from making the purchase. Ahead, find out how McQueen left Lee terrified after driving on Los Angeles' Mulholland Drive. 
Bruce Lee drove 'way too fast', his training partner says
Per The Hollywood Reporter, in Bruce Lee: A Life, biographer Matthew Polly describes how Lee used to borrow a hairstylist's Shelby Cobra and race it on Mulholland Drive. According to Polly, Lee enjoyed the car but he really wanted a Porsche 911S Targa like McQueen.
However, unlike McQueen who'd been very experienced behind the wheel to the point where he could've been a professional race car driver, Lee's driving left something to be desired.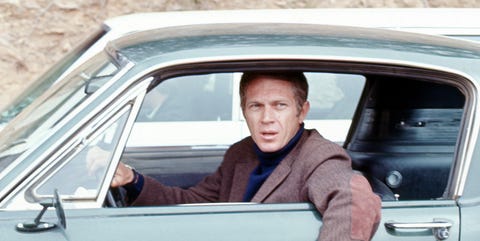 "He was just way too fast," Dan Inosanto, Lee's training partner said. "It would scare me."
So, when McQueen got a phone call from Lee on Aug. 26, 1968, telling him he'd already taken a Porsche for a test drive, he didn't exactly jump up and down with excitement.
"Look, Bruce, let me take you for a ride in mine when I get back," McQueen said. "It's a hot car, but if you don't know what you are doing you can get into trouble with this thing."
Lee agreed to what he believed would be a fun jaunt while McQueen intended to scare his fellow actor out of buying the Porsche.
He vowed to 'never drive' with Steve McQueen again
The Fist of Fury star hopped in McQueen's Porsche ready for a joy ride. What he got was anything less than joyful. McQueen drove to Mulholland Drive where he proceeded to do a series of terrifying moves. He pushed the car to the edge of the winding road all the while talking to Lee but getting no response.
After doing "a mean 180" in his Porsche, McQueen asked for Lee's opinion only to see him not in the seat next to him but crouched down on the floor of the car. He had some choice words for McQueen.
He called McQueen a "sonovab*tch" before threatening to kill him and begging him to slow down. After his pleas, McQueen pulled over to the side of the road. Lee got out and exclaimed, "I will never drive with you again, McQueen. Never!"
Less than five years later, Lee would be dead. He died in his sleep of cerebral edema meaning his brain swelled as a result of excess fluid.
Bruce Lee subject of ESPN documentary 'Be Water'
Even though Lee only starred in four movies before his death, his impact on Hollywood is profound. He's credited with changing the way the film industry represents Asians. Premiering June 7, 2020, the ESPN documentary Be Water takes a closer look at the challenges Lee faced as an actor and as a martial artist.