Chuck Norris
Chuck Norris Slept on a Couch near His Wife of 23 Years for 5 Months & Nursed Her Back to Life
Some years ago, Hollywood actor Chuck Norris showed unwavering support for his wife, Gena Norris, after she fell ill and was incapacitated. Chuck made sure she knew she was not alone amid the ordeal.
In his heydays, Chuck Norris was that hardcore action movie guy whose rough-around-the-edges film roles somewhat reflected parts of his real life.
However, fans got to see the softer and homelier side of the classic actor's life when his wife, Gena Norris, fell ill. Gena's illness took a heavy toll on her life, but Chuck never left her side. 
Classic action actor Chuck Norris had a good run in Hollywood during his most active years, and he had his wife, Gena Norris, right by his side. The "Walker, Texas Ranger" actor and Gena, a model, tied the knot in 1998 and decided forever was not enough.
Two years into their marriage, Chuck and Gena became parents to a set of twins. The twins were their first children together as the two had children from older relationships.
Chuck continued to thrive in his career, having presented his TV show, "Walker, Texas Ranger," which was a great success.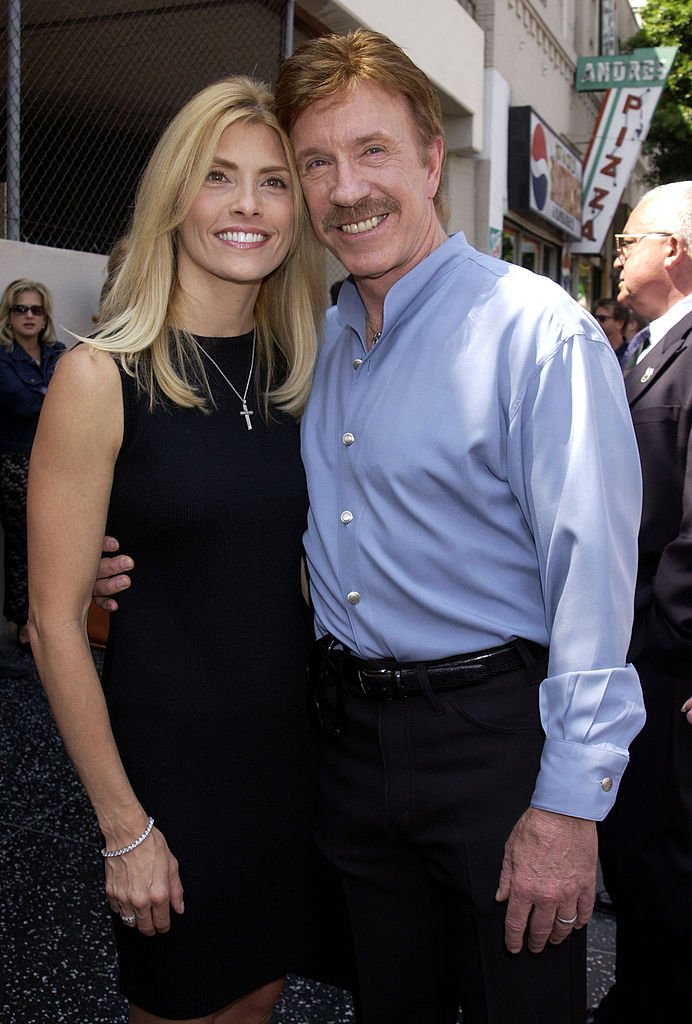 In 2013, Gena visited medical practitioners where she underwent scans to diagnose rheumatoid arthritis. Before the MRI scan, Gena was injected with a contrast agent.
The injected substance was supposed to create contrast in her organs such that doctors would have a clearer outline of the state of her organs and also detect irregularities.
During an old-time interview, Gena narrated her ordeal, making it known that she demanded to know if the contrast agent was safe before it was applied, and the doctors replied in the affirmative.
Gena also recalled that it was more than one test, and she pleaded with the doctor to take all the tests in one day. However, the public figure added that the doctors insisted it had to be on different days.
She mentioned that she felt different a few days later, but it was not a severe after-effect, so she did not pay much thought to it. However, by the time it was close to a month, Gena had started feeling burning sensations on parts of her body. In an emergency, 
Gena went back to the hospital, and her spouse was right by her side. The doctors wasted no time administering some pain relief medications, and in no time, Chuck and his wife were back home.
That emergency visit to the hospital became the first of several times due to the burning sensation all over her body. Gena shared in her interview that it felt like acid was poured on her insides.
Gena and her spouse believed she was poisoned by the chemical and left to nurse terrible pains.
One notable observation she made was that each time she was rushed to the ER over the burning sensation, she would notice that the pain had spread further. Five months into the horrifying experiences, Gena's life completely changed.
The burning feeling only got worse, and after Gena was rushed to a family friend's hospital, she couldn't feel some parts of her body; neither could she feed well nor take care of herself.
Gena's deteriorating health turned into her worst nightmare overnight as she was confined to her hospital bed. Suddenly she went from the healthy lady on the Total Gym infomercials to a sick person.
However, she had one thing to be grateful for, her husband. Chuck kept his career aside and threw himself into the challenge of being his wife's sole caregiver.
Chuck, who appeared in the same interview, relayed that he did not leave her side, and he read 17 books to her on her journey through recovery. 
Chuck and Gena were not about to sweep things beneath the carpet following the ordeal. In retrospect, the pair sued several health companies in connection to the gadolinium-based MRI that caused her pains.
The couple filed the lawsuit at a San Francisco court, naming $10 million in damages. They added that the suit was aimed at sensitizing people on the dangers of gadolinium in MRI contrast agents. 
Gena and her spouse believed she was poisoned by the chemical and left to nurse terrible pains. However, some medical experts shared that gadolinium has a low-risk level, and others noted that the substance has a tendency to accumulate even if the patient's kidneys were in good condition.
These days it seems the decorated martial artist and his wife have been able to move past that harrowing moment in their lives. Back in 2018, Chuck celebrated their 20th anniversary, calling her the love of his life.