Peaky Blinders
Peaky Blinders Is Already Teasing Tommy's Perfect Ending
A teaser posted by the BBC for Peaky Blinders season 6 seems to suggest that Tommy might not make it out alive when face to face with Ada.
A promo posted by the BBC is already teasing the best ending to Tommy's story in Peaky Blinders. Peaky Blinders follows the powerful British gang of the same name during the crime boom that followed World War I. The gang is led by Thomas Shelby and his family, and the show focuses on the frequent threats made to overthrow the family and their gang and Tommy strives to expand his criminal empire and keep his family together.
The BBC posted a short teaser on Twitter for Peaky Blinders season 6. The 10-second-long video features Ada telling Tom to take a good look because one of them wasn't going to be there for long. Ada appears strong, while Tommy hangs his head, looking worse for wear. The video seems to suggest that only one of them is going to make it out of season 6 alive, and there's good reason to suspect it might not be Tommy Shelby.
Given the end of Peaky Blinders season 5, this actually might be the best ending for Tommy. Viewers last saw Tommy standing in a field, facing down the ghosts of his dead horse and wife with a gun to his head and his finger on the trigger. The shocking cliffhanger had been building for the entire season of Peaky Blinders as Tommy Shelby, haunted by ghosts from his past, struggled with his mental health and PTSD after serving in World War I and the multiple traumatic experiences he'd experienced since. The guilt from his wife's death and the stress of a trusted friend betraying him contributed to the rapid decline of his mental health that ultimately culminated in the scene in the field at the end of the season finale. Throughout the season, as he interacted with his hallucinations of Grace more and more, Tommy continued to say he needed to sleep, a line loaded with metaphorical meaning. While the teaser suggests that the events in the field will not end in Tommy's death, it does prime the viewer to realize his death is a real possibility to consider for Tommy's ending in Peaky Blinders.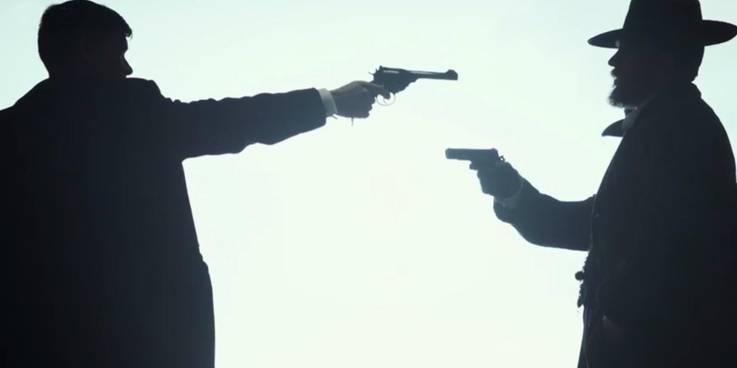 Additionally, his death may not be at his own hands at all. Throughout the whole series, Tommy has had to avoid certain death coming at him from all directions. Before he was his own worst enemy in Peaky Blinders season 5, Tommy was avoiding threats from Luca Changretta in season 4 and from his Russian business partners in season 3. Most seasons seem to pin Tommy and his group against someone else, threatening to end not only the business but also Tommy himself. Season 5's major betrayal seems to be happening internally, so expecting Tommy to go head to head with someone he thought was on his side would be a natural progression of the show. The teaser seems to suggest that his sister Ada might even be the threat to Tommy in Peaky Blinders season 6.
It was announced in January of 2021 that Peaky Blinders season 6 would be the final season, followed by a concluding movie. The most satisfying ending to Peaky Blinders would be Tommy's unfortunate demise. At this point, the characters are all in too deep, and an ending featuring Tommy happily in charge of the business with tons of money and absolutely no threat to his livelihood just wouldn't make any sense. For the chaos and danger to end, Tommy's death seems inevitable. The Tommy that started out in Peaky Blinders before the war had no interest in the business, and he's since lost his way. If the showdown between Ada and Tommy for control of the group shown in the Peaky Blinders teaser ends with Ada coming out on top, it would be the best outcome for both Tommy and the Shelby family as a whole.