Seinfeld
10 Times Jerry Seinfeld Became Unlikeable With The Fans
Jerry Seinfeld has crossed the line a few times on live TV.
There's no doubt that Jerry Seinfeld is one of the most iconic and important comedic minds in history. Aside from his impressive stand-up career, Jerry, alongside Larry David, is responsible for creating the most beloved sitcom of all time. Even though the comedian mostly works clean, he's gotten himself into trouble on quite a few occasions. So, despite his legacy and the respect he holds in the business, and amongst his die-hard fans, he has almost definitely angered more than a few people.
While fans side with Jerry in some of his scandals, including his hatred for another comedian, other times he's made enemies out of the mainstream. Much of this has to do with the fact that he freely shares his opinions. But other controversies Jerry's been involved in are downright gross or particularly insulting.
10 Jerry Seinfeld's Thoughts On Diversity Got Him Into Hot Water
During a 2014 interview with CBS This Morning, Jerry made some comments about inclusion and diversity that some fans were offended by. After being asked about how few people of color he's included on Comedians In Cars Getting Coffee, the iconic comedian said, "People think [comedy] is the census or something, it's gotta represent the actual pie chart of America. Who cares?" He continued by saying, "Funny is the world that I live in. You're funny, I'm interested." But it's the fact that he said he had no interest in "gender or race" that really got fans angry.
9 Jerry Seinfeld's Feud With Lady Gaga
Lady Gaga is one of the most beloved and respected talents in entertainment, but Jerry is not a fan. After Gaga flipped off the paparazzi (and some of her fans) at a Mets game, she was relocated to Jerry's private box. Jerry was furious with this and publicly called out the singer. "This woman is a jerk. I hate her," Jerry said, according to Rolling Stone, "I can't believe they put her in my box, which I paid for. You give people the finger and you get upgraded?"
8 Fans Thought Jerry Was A Jerk To Larry King
After Larry King's death in 2021, an old clip from a 2007 interview with Jerry resurfaced. In the clip, Jerry appeared to be visibly angry at Larry's suggestion that Seinfeld was canceled. The result was an awkward and rude encounter. Even though Jerry has claimed, via Twitter, that this moment was just him having fun with Larry, the late CNN talk show told The Young Turks that Jerry was indeed angry. But Larry did apologize for not fully doing his research prior to sitting down with Jerry.
7 Jerry's Kids Movie Was Secretly Very Adult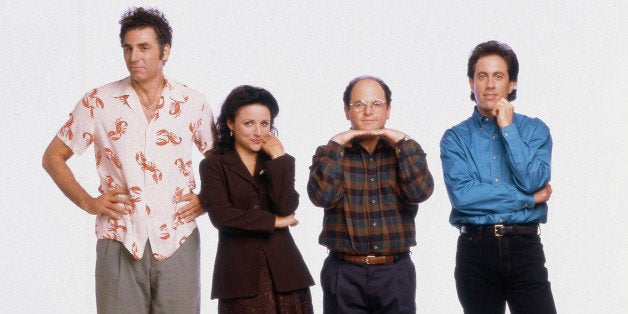 After fans criticized Jerry's 2007 animated movie for containing a number of sexual innuendos, the comedian was forced to apologize for having co-written it. "I apologize for what seems to be a certain uncomfortable subtle sexual aspect of the Bee Movie," Jerry Seinfeld said on The Tonight Show. "[It] really was not intentional, but after it came out, I realized this is really not appropriate for children."
6 Jerry Has A Track Record Of Being Rude To Journalists
If Jerry doesn't like a question he's asked, he's not afraid to tell an interviewer. It doesn't matter if that person is Larry King, a TMZ paparazzi, or Channel 2's Dana Weiss asking him about the #MeToo movement. If Jerry feels that a question is stupid or is just irritated by it, he can be downright rude. At least, fans think so. This is why there are numerous compilations of Jerry's responses on Youtube.
5 The Time Jerry Seinfeld Slammed An Author On David Letterman And Was Sued For It
In 2008, Jerry's wife Jessica was slapped with a plagiarism lawsuit. The accuser, Missy Chase Lapine, claimed that Jessica's 2007 best-seller, "Deceptively Delicious: Simple Secrets to Get Your Kids Eating Good Food", ripped off her book which had a similar name and concept. In defense of his wife, Jerry went on The Late Show with David Letterman and made jokes about Missy, earning himself a defamation lawsuit. However, the courts ruled in both Jerry and Jessica's favor and Missy's claims were tossed aside. On one hand, this story proves that Jerry is intensely loyal to his wife. On the other, it feels as though he took cheap shots at someone who is clearly not as privileged as he.
4 Jerry Doesn't Think His Daughter Sascha Knows What Sexism Is
Jerry's relationship with his daughter, Sascha, seems to be quite strong, according to their Instagram. But he did make comments about her labeling something he said as "sexist". While being interviewed on The Herd in 2015, Jerry claimed that Sascha clearly didn't know what she was talking about when she called her dad out for something he said. "They just want to use these words. 'That's racist. That's sexist. That's prejudice.' They don't know what the f*** they're talking about."
3 Jerry May Have An Outdated Perspective About Relationships Between Men And Women
No, Jerry's jokes about women aren't exactly sexist, they're more distant and outdated which doesn't exactly sit well with comedy fans in 2021. In Jerry's latest Netflix special, 23 Hours To Kill, he made some jokes that felt shallow and completely missed the mark. One journalist at Haaretz claimed that Jerry's jokes about his relationship with his wife, Jessica, felt as though he was keeping his audience at arm's length. The journalist then claimed that if he wasn't willing to share something more intimate, he should just retire. She also wrote, "I really wouldn't have been surprised if, at some point, he offered up the 'revelation' that women are from Mars and men are from Venus. His actual big declaration was that marriage is 'two people trying to stay together without saying the words 'I hate you.'' Wow, thanks Jerry, we'll let you know when Dr. Ruth is on vacation."
2 The Way Jerry Met Jessica Seinfeld Is Pretty Inappropriate
There's no doubt that Jerry and Jessica have a meaningful and inspiring relationship. But the way they met really rubbed fans the wrong way. According to Nicki Swift, Jessica was still married when she started a relationship with Jerry. However, Jessica's relationship with her former husband, producer Eric Nederlander, was in turmoil and she was already in the process of separating from him. The press believed that Jerry stole Jessica away from a less famous man and this was certainly Eric's perspective. In an interview with The New York Post, Eric said, "I was manipulated, misled, and completely caught off guard by Jessica's infidelity. Jerry and Jessica have no respect for decent values. They deserve each other. I'm going on with my life."
1 The Time Jerry Seinfeld Dated A Teenager When He Was 38
Jerry Seinfeld's most controversial moment is easily his romance with Shoshanna Lonstein (now Gruss). According to People, Jerry spotted Shoshana in Central Park and asked for her number. She was just 17 at the time. While they both claim that their romance didn't officially begin until she was 18, many of his fans were totally taken aback by this relationship. To this day, many feel as though it was inappropriate as he was 38… The two were together for about 4 years, but they ended things as Jerry was a working man and she was in university.