Charmed
Rose McGowan: The Biggest Bombshell in Her Revealing Book
Rose McGowan has seen the ugly side of Hollywood, and she's done hiding any of it. In her book, Brave, she delves into some of the hardest moments she's ever endured in her life. From childhood trauma to hated jobs to multiple cases of sexual assault, McGowan proves just how Brave she really is.
Here are the biggest revelations from the 44-year-old actress and #MeToo activist, leading up to the No. 1 bombshell she drops in her book.
8. She didn't enjoy being on Charmed
Charmed may be one of WB's most beloved shows, but McGowan didn't enjoy playing a part in its success. The male-dominated crew was disrespectful, and according to People, she was left feeling "tired and defeated."
She wrote in her book that they "would snicker in disrespect when [a female director] would direct them." Looking back, she feels "horribly about not fighting for her more."
McGowan wasn't a fan of the show itself, either. She explained, "I didn't fully understand the dynamics of what was happening. My character was too busy talking to leprechauns to have the time."
7. She had a difficult childhood
McGowan has overcome an incredible amount of childhood trauma. She opened up about being raised in a religious cult, Child of God, with her father in charge the Italian branch. At only 13 years old, she ran away and ended up receiving little education.
She never had a steady home, bouncing back and forth between living with her mother or "cruel" father. When McGowan was 15, she was left in the hands of her abusive 20-year-old boyfriend, William, when her mother abandoned her.
6. The first person she loved was stabbed to death
Once McGowan managed to escape her abusive relationship with William, she began dating club owner Brett Cantor. She describes Cantor as the first person she loved, but their relationship came to a tragic end when he was stabbed to death.
McGowan wrote that his murder is still an unsolved mystery, and she disclosed, "I have been trying for years to remedy."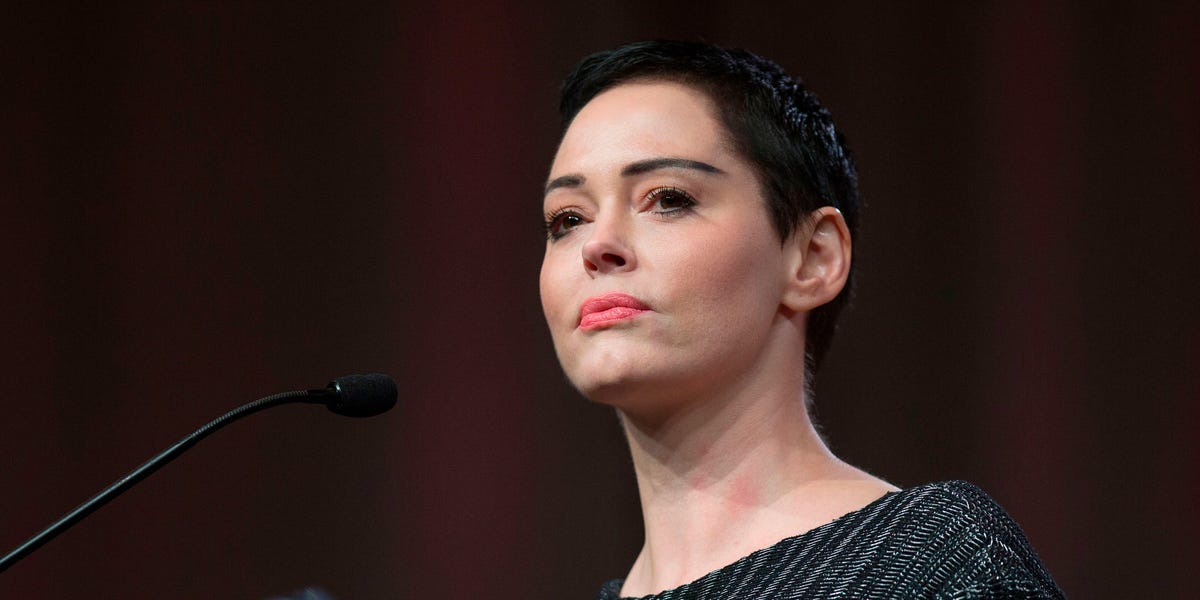 5. Her breakup with Marilyn Manson was due to their lifestyle differences
In the '90s, McGowan found true love again with rock star Marilyn Manson. They became engaged in 1999, but split two years later. At the time, she released a statement that read, "There is great love, but our lifestyle difference is, unfortunately, even greater."
She once again addressed their broken engagement in her book, explaining that their relationship became exhausting. "I was really in love with Manson," she wrote. "I just couldn't do the lifestyle anymore. I was too tired."
4. She lied to the press about why she got plastic surgery
McGowan underwent facial plastic surgery in the late '00s, but the explanation she told everyone was a lie. She claimed that she was in a bad car accident, and the surgery was reconstructive as a result. In her book, McGowan revealed the truth. She explained that she received plastic surgery due to "a medical procedure gone wrong," according to People.
The original medical procedure was intended to correct a sinus problem, but during surgery, the skin below her right eye was accidentally punctured. She received reconstructive surgery, but it left her eye looking "slightly pinched" and gave her an uneven appearance. She then received surgery on her left eye to even them out.
McGowan wrote, "I told my publicists what happened and they said to say it was a car accident. Looking back, I don't know why it mattered but I took that advice. And so when I was asked by the press, that became the party line."
3. She was only 14 when she was first sexually assaulted in Hollywood
McGowan was very young when she discovered the ugly, hidden side of Hollywood. At 14, a man who she described to be in his late 40s fondled her breasts and "jammed his tongue down [her] throat" while she was working as a film extra.
Despite her horrifying experience, she continued working on the film, due to the $300 a month her father expected her to pay in rent.
2. Her infamous 'naked dress' was meant to serve as a statement
If you watched the 1998 MTV Video Music Awards, you'll likely remember McGowan's infamous "naked dress." While attending the award show with Manson, her completely sheer dress left nothing to the imagination.
McGowan wrote that the dress was "misinterpreted and sexualized, which was the exact opposite point I was trying to make." She was making a statement, calling it a "big middle finger to pretty much everybody."
She admitted, "It was a reclamation of my own body after my assault." In addition to being assaulted at only 14, she alleges to have fallen victim again of sexual assault in 1997 — this time by Harvey Weinstein.
1. She accused Weinstein of forcing oral sex on her
McGowan didn't hold back when describing just how much of a monster Weinstein truly is. At the 1997 Sundance Film Festival, she was misled to believe a meeting in Weinstein's hotel suite was for the purpose of discussing her career. When she arrived in his room, she claimed that he proceeded to remove her clothes and lead her into the jacuzzi. Weinstein allegedly performed oral sex on McGowan while pleasuring himself, during which she recalled fighting through tears.
Following the incident, McGowan consulted a few people. However, they advised her to "see it as something that would help [her] career in the long run." Even a criminal attorney claimed no one would believe her in the event that she pressed charges.
McGowan refers to Weinstein as "the Monster" throughout the book — and rightfully so. Women finally have a platform to be listened to and believed thanks to the #MeToo movement, which has given McGowan the chance to share her story.