Throughout the 1970s and 1980s, U.S. moviegoers may have been discovering iconic action stars like Sylvester Stallone, but overseas audiences had their own superstars on the rise. Perhaps one of the most enduring of whom is Jackie Chan. The Hong Kong star has become a legend in his own right, starring in countless martial arts films both in North America and abroad, thanks to his signature blend of slapstick comedy and jaw-dropping stuntwork. Throughout his career, Chan has appeared in more than 100 releases. However, we attempt to identify six of the most significant films of his career. For the record, we're limiting this list to one entry per franchise.
1. Project A (1983)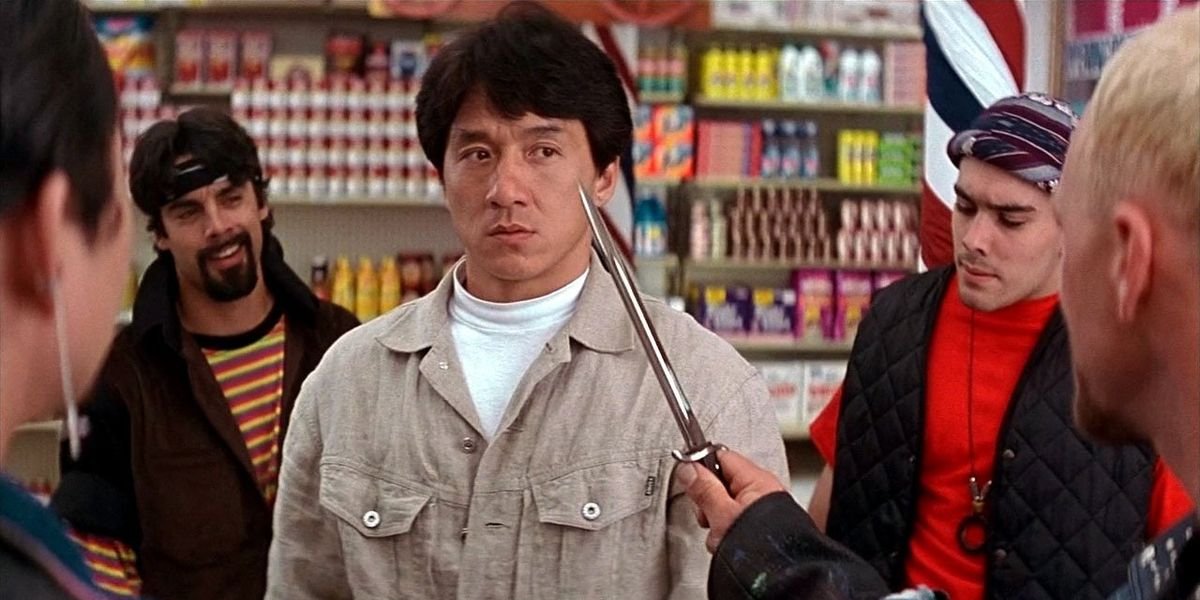 Co-written and directed by Chan, this period action comedy — set in 19th-century Hong Kong — sees Chan take on a group of pirates. Co-starring Sammo Hung (who also directed the film's action), Project A was perhaps one of the films to crystallize the fact that Chan's style was so closely inspired by comedy routines by the likes of Harold Lloyd and Buster Keaton. In fact, this particular film features a clock tower sequence that directly references one of Lloyd's iconic set pieces. A sequel followed in 1987.
2. Police Story (1985)
To most hardcore Chan fans, Police Story may be his signature franchise, and it all starts with this initial adventure. Chan — who once again directs — stars as Chan Ka-Kui (or Kevin Chan, as he is sometimes referred), who must clear his name when he's framed for murder. Chan himself considers Police Story to be among his very best films, and the success of this first installment inspired a run of five sequels to date, released from 1988 to 2004.
3. Armour of God (1986)
If Police Story is Chan's go-to detective franchise, this is his Indiana Jones-style adventure series. As "Asian Hawk," the actor sets off on a treasure-seeking quest through Europe, and Armour of God itself is notable for being the film during which Chan cracked his skull during a stunt. Hopefully, the film's warm reception — and its regular inclusion among Chan's best — was worth the pain. He returned for a sequel followed five years later as well as a quasi-reboot of the franchise, Chinese Zodiac, in 2012.
4. The Legend of Drunken Master (aka Drunken Master II) (1994)
More than 15 years after first playing Chinese folk hero Wong Fei Hung in Drunken Master, Chan returned to the role for this sequel/reboot, which doesn't acknowledge the 1978 original film. Although its predecessor helped shape the future of martial arts films, this release — titled simply Drunken Master II internationally — eclipsed it with some of the most praised fight sequences ever put to film. A successful U.S. theatrical release in 2000 has only helped its reputation grow, although the film's original cut has yet to be issued on an official home video release in North America.
5. Rumble in the Bronx (1995)
After decades of hit films internationally, this was the film that finally began to establish an appreciation for Chan's work in the U.S., thanks to its domestic release in 1996. As a Hong Kong cop who travels to the titular New York borough, Chan engages in one breath-taking fight scene after another, all while blending his signature comedic skill. As far as showcases for the star's filmography, Rumble in the Bronx is certainly a solid one, as it directly influenced Hollywood to finally realize Chan's limitless appeal.
6. Rush Hour (1998)
After the success of Rumble in the Bronx in the U.S., studios were eager to work with Chan. While a number of his Hong Kong releases soon made their way to domestic theaters, the actor also began starring in major Hollywood films. Among the first of these was this Brett Ratner-directed action comedy, which pairs Chan with comedian Chris Tucker. Rush Hour was a smash hit and led to two sequels, and while it may not be one of Chan's best films overall, the franchise is his biggest Hollywood success and among his best stateside projects.