Twilight
Why Shailene Woodley Once Thought 'Twilight' Was Toxic
The Twilight franchise was a bonafide hit when it first came out. Based on Stephanie Meyer's best-selling novel, the movies expanded their popularity and enjoyed massive box-office success. Although the films definitely had their supporters, they also had their share of critics as well. One of those critics was Divergent star Shailene Woodley, whose criticisms were a bit more personal than most.
Shailene Woodley thought 'Twilight' displayed an unhealthy relationship
Woodley had major criticism towards Twilight's depiction of its main relationship. In both the books and the movies, the main character Bella Swan is smitten by the brooding vampire Edward Cullen. However, Woodley thought the romance between Bella and Edward could send the wrong message to an impressionable audience.
"Twilight, I'm sorry, is about a very unhealthy, toxic relationship," Woodley once said according to Glamour. "She falls in love with this guy and the second he leaves her, her life is over and she's going to kill herself…What message are we sending to young people? That is not going to help this world evolve."
How Shailene Woodley's unhealthy relationship made her stronger
Perhaps one of the reasons Shailene Woodley is so outspoken about Twilight is because she, too, has experienced a tumultuous partnership. Woodley once revealed that when she began achieving commercial succes she was going through difficult times in her life. Part of that reason is that she, herself, was involved in an unhealthy relationship.
"In my late teens, I had a strong idea of my identity and the meaning of my life, but then I went through an abusive relationship," Woodley told the New York Times. "That combined with, honestly, the commercial success I had in this industry began to wear on my strength. My 20s felt a little bit like being in a washing machine, where you're being thrown all over the place."
But Woodley was able to overcome those negative experiences and considers herself a better person because of them in a way.
"Now I'm on the other side of it," the Descendant star confided. "A lot of the last few years has been focusing on mental health for me, and it's a slow process. But because of that work, I feel very grounded and rooted in who I am and very clear about everything in my life, whether it's my career or my relationships or my own internal worth. I feel very grateful to have walked that line of fire, because now I know what I don't want to ever go back to."
Are Shailene Woodley and Kristen Stewart friends?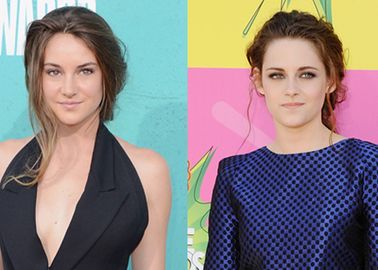 So far, no one of the Twilight cast has publicly addressed Woodley's comments directly. However, Woodley has been very complimentary about Twilight actor Kristen Stewart. When Woodley was on the rise, she was compared to other stars of young adult films like Stewart and Jennifer Lawrence. Woodley was more than appreciative of the sentiment.
"It's totally flattering just to be compared to characters like that," Woodley told E! News. "Also, I don't personally know Kristen or Jen but they both seem like strong, confident women and so I'll take a comparison. That's a compliment, right?"
Woodley and Stewart would later go on to kiss each other for art, according to MTV News. The makeout session was a part of a series of 9 videos showcasing actors displaying public displays of affection for the New York Times.