Chuck Norris
The Strange Reason Donald Trump Outranks Chuck Norris In Taekwondo
Throughout the '80s, the name "Chuck Norris" was synonymous with violent action movies such as "An Eye for An Eye," "Silent Rage," and "Forced Vengeance" (per IMDb). More recently, he popped up in the action hero team-up sequel "The Expendables 2" in 2012 alongside buff buddies including Sylvester Stallone and Jet Li. Norris was also the titular "Walker, Texas Ranger" for essentially our entire childhoods. Suffice to say, onscreen, the actor is known for beating the fudge out of bad guys. Offscreen, though, Norris is just as much of a butt-kicker if not even more so.
Norris has earned dispensations in six different martial arts disciplines, including creating his own new one, with the action star explaining to the Los Angeles Times that his journey began all the way back in 1960. Norris was just 19 years old and serving in the Air Force at the time. Per Cheat Sheet, he's earned black belts in; Tang Soo Do, judo, Brazilian jiu-jitsu, karate, taekwondo, and of course, Chun Kuk Do, which Norris also invented.
His impressive record is being challenged by an unlikely contender now, though, as Donald Trump has just received his own taekwondo dispensation, placing him above the action icon.
Donald Trump's taekwondo designation is purely honorary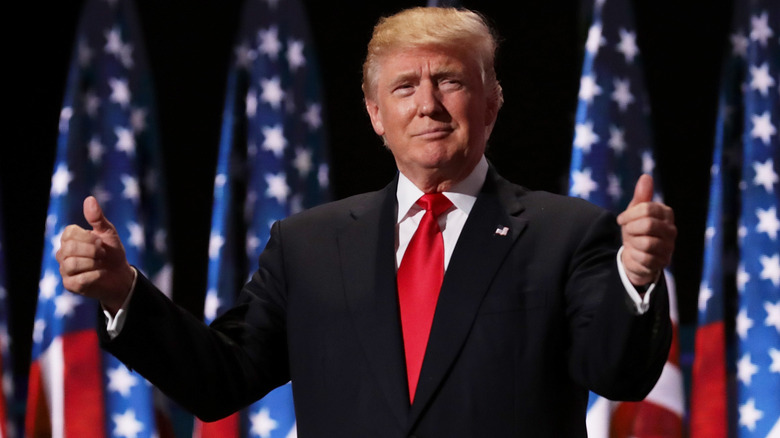 ​According to the New York Post, former President Donald Trump was awarded an honorary, ninth-degree black belt in taekwondo at his Mar-a-Lago resort in Florida on November 20. Lee Dong Seop, who heads up the taekwondo world headquarters in South Korea, presented Trump with the belt, per Korean newspaper The Dong-A-Ilbo. They quoted Lee as confirming he'd heard the former commander-in-chief was "highly interested in taekwondo." 
The two men posed together for photos, for which Trump donned some traditional taekwondo garb and air-punched alongside Lee with a big smile on his face. The two also posed in front of a photo of Trump shaking hands with notorious North Korean dictator Kim Jong Un; the shots were shared on the official Kukkiwon Facebook page. However, they were posted with a note clarifying the event was "not related [to] any other political issues."
Donald Trump was clearly delighted to receive the honor, enthusing, "It is my pleasure and honor to receive this honorary certificate. Taekwondo is a great martial art for protecting oneself in these times [when COVID-19 prevails]," as The Dong-A-Ilbo reported (via the New York Post). He also promised to wear the taekwondo getup to Congress.
It's worth noting that Russian leader Vladimir Putin was also awarded a ninth-degree black belt back in 2013. Chuck Norris, meanwhile, only has an eighth-degree black belt. Trump would be best advised not to challenge him any time soon, though, considering Norris practices taekwondo for real.