Uncategorized
How Kylie Jenner Boosted Kendall's Confidence in High School
Keeping Up With The Kardashians stars Kendall and Kylie Jenner took some shots of 818 Tequila and dished on their time in high school.
As the two youngest members of the Keeping Up With The Kardashians clan, Kendall and Kylie Jenner share a lot of sisterly bonding moments together. The two Kardashian-Jenner sisters recently appeared on Kylie's YouTube channel and dished it all while taking back shots of 818 Tequila. During the comical tell-all, Kendall shared how Kylie "boosted" her confidence while they were in high school.
Kylie Jenner has been using her YouTube channel to promote her cosmetics company while also sharing fun bonding moments with her family. In recent weeks, she's shared videos with Caitlyn Jenner and her older sisters Kourtney, Kim, and Khloe Kardashian. Now, it's Kendall's turn, and it came just in time for the supermodel to cross-promote her new tequila company. It was last month when Kendall launched her first solo business venture with 818 Tequila. She shared a photo and video slide that showed her process for testing the quality of her tequila on her friends before the company went on to win awards. As an entrepreneur, Kendall now joins the ranks of her sisters who all have their own successful companies.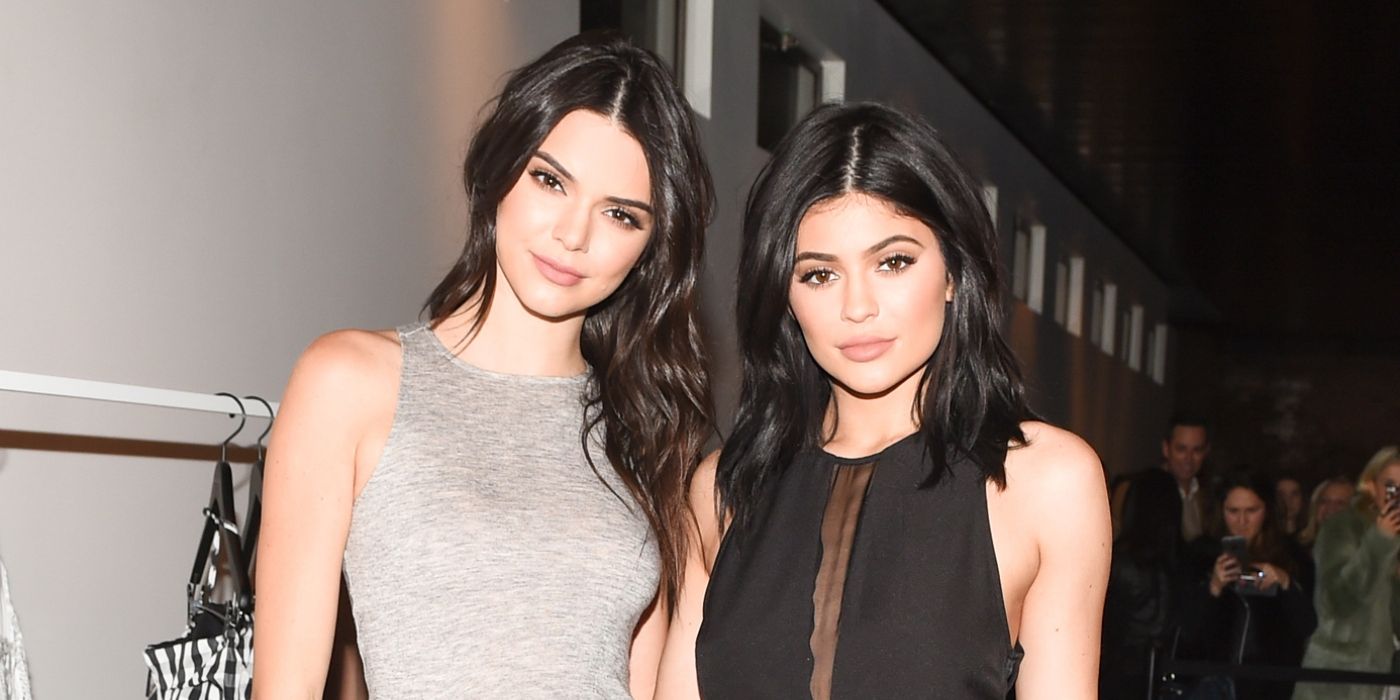 Over the week, Kylie Jenner released her latest Kylie Cosmetics makeup tutorial video (seen below) that featured her sister Kendall Jenner. To spice things up, the two superstars took shots of Kendall's tequila for Kylie's "Drunk Get Ready With Me" tutorial. The video showed the two KUWTK stars drinking in the parking lot before doing their makeup with the Kendall by Kylie Cosmetics palette that was released last year. After doing their makeup and feeling a little tipsy, the two sisters reminisced on their childhood, with Kendall opening up about being insecure over her acne in high school. The fashion model recalled asking Kylie if she could see blemishes on her face before heading out to school. "Every day you would say, 'No, you look beautiful.' I knew you were lying, but I appreciated you," Kendall recalled.
The memory led to Kylie Jenner shedding a few tears after downing her fifth shot of Kendall's reposado tequila. "I knew it was your biggest insecurity and every time, like clockwork, you would ask," Kylie said. "It always made me so sad to hear you talk about it." But it turns out Kylie was actually helping her sister build up more confidence. "It actually shifted my day," Kendall shared. "I would go into school and be like, 'Okay, I'm the only one who sees it as bad as it is. If Kylie doesn't see it as that bad, then it must not be.' And it actually boosted my confidence."
Kendall took that confidence and ended up making a modeling career out of it. All the while, Kylie went on to build a beauty empire that can help anyone struggling with acne issues. The stars must have always been aligned. All things considered, the Keeping Up With The Kardashians family members always stick together.