Seinfeld
The Truth About 'Seinfeld' Star Daniel Von Bargen's Tragic Life
What really happened to Mr. Kurger after Seinfeld is truly sad.
During its nine-season run, Seinfeld was one of the most popular and respected shows in television history. One of those rare shows that managed to attract a huge amount of viewers while at the same time garnering accolades at every turn, a lot of people look back on Seinfeld's legacy with nothing but respect. Of course, Seinfeld was a show that could be very controversial and that certainly deserves to be remembered but that doesn't negate the show's place in television history.
Given the fact that many people who starred in Seinfeld became rich and famous, the people who headlined the show have gone on to enjoy incredible lifestyles. Unfortunately, however, even though Seinfeld fans remember a lot of the show's supporting characters with great fondness, the actors who played them didn't cash in like the series' stars did. Worse yet, when it comes to the actor who brought Mr. Kruger to life, Daniel Von Bargen, not only did he not get rich, he went on to deal with some serious tragedies.
The Truth About Daniel Von Bargen's Career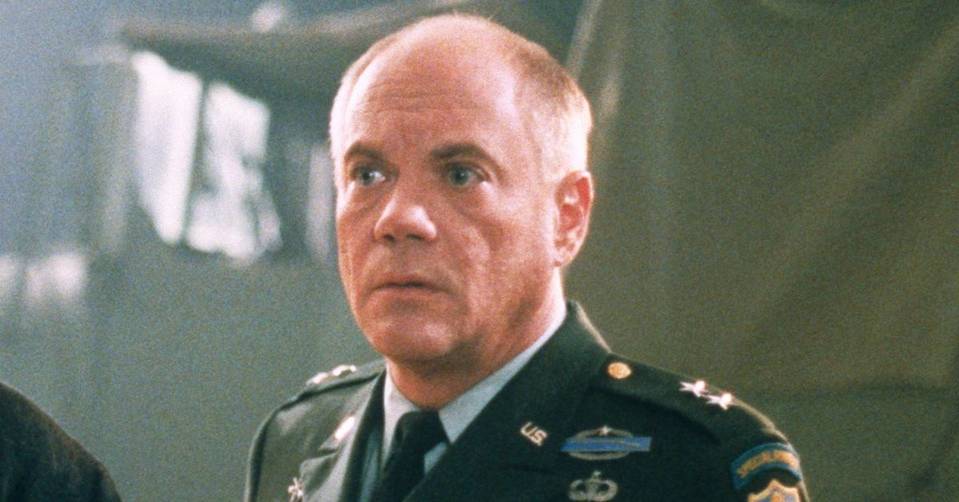 When looking back on the life of Daniel Von Bargen, it is important to note that in a lot of ways, he had a truly awesome life. Able to pull off something that most actors can only dream of, Von Bargen was successful enough as an actor that he landed a long list of roles in memorable shows and movies. More importantly, not only did Von Bargen show up in many films and series, he played notable characters that millions of people were very entertained by.
After Daniel Von Bargen made his television debut in 1974, he went on to work consistently until 2009. A veteran of the stage and accomplished film and television actor, Von Bargen has so many impressive credits to his name that it would be impossible to list them all here. That said, Von Bargen's most famous roles include Seinfeld's Mr. Kruger, Malcolm in the Middle's Commandant Edwin Spangler, and Super Troopers' Chief Grady.
Daniel Von Bargen's Tragic Life
Over the last few decades, the paparazzi and tabloids have both become major forces in the media landscape. While it is abundantly clear that the tabloids often go way too far and the paparazzi are even worse a lot of the time, there has been one positive side effect of their existence. Even though it often is disgusting that the tabloids and paparazzi are willing to invade the private lives of the stars, that does allow fans to remember that stars are human beings like the rest of us. For example, the paparazzi often capture pictures of stars having great times with their friends and families.
Unfortunately, when it comes to Daniel Von Bargen, he never was famous enough to be followed by the paparazzi so nothing is known about the happy times in his private life. That said, there is every reason to believe that Von Bargen had wonderful times with a lot of people who loved him. On the other hand, some very dark moments in Von Bargen's life have been very well documented. For example, it is known that Von Bargen was married to an actor named Margo Skinner and in 2005, she passed away from a heart attack in her sleep. While Skinner and Von Bargen were divorced at that time, when an ex-spouse passes away that can be very traumatic.
While there is no way to know what was going on in Daniel Von Bargen's head when his ex-wife passed away, it is very clear that he was in a very dark place in 2012. After the height of Von Bargen's Seinfeld fame, he had to have one of his legs amputated due to diabetes. Of course, loads of people have gone through the same thing and gone on to lead extremely happy lives. However, when Von Bargen learned that some of the toes on his remaining foot had to be amputated, he became despondent.
As TMZ reported in 2012, when he was supposed to go to the hospital for his surgery, Daniel Von Bargen decided to take his own life. After firing a weapon into his own temple, Von Bargen somehow managed to not only survive, he called 911 to get help. As a part of their report, TMZ released audio from Von Bargen's 911 call and things got very graphic and sad at points. For example, Von Bargen could be heard saying "I have no children and no life, and I'm tired, and I've f— it up." Ultimately, Von Bargen went on to survive his injuries.
Just over three years after Daniel Von Bargen's 911 call wound up in the press, the actor passed away in 2015. To this day, the actor's cause of death has never been confirmed but it was reported that his passing "came after an unspecified long illness". Given all of the joy that Von Bargen's performances provided to the masses, it is difficult to learn everything that he went through in his final years. As Jason Alexander perfectly summarized when he spoke to People about Von Bargen's passing, "It's sad. It's just sad."