Uncategorized
Everything We Know About Bella Hadid's Rise To Fame
Bella's been able to establish her own, individual look...and career. Let's see how Bella became the fashionista she is today!
Bella Hadid is frequently seen as Gigi Hadid's younger sister. Being the middle child (Bella and Gigi have a younger brother named Anwar) is tough enough, without having a gorgeous model like Gigi as an older sister. Not to mention, Bella and Gigi are in the same field – modeling – which means they're constantly being compared.
Gigi was actually the first to start modeling (she was only two years old when she started her career). However, Bella took some time to decide what she wanted to do. She finally began modeling at sixteen years old.
Bella has always considered herself the black sheep of the family – she's more rebellious than her sunny, blonde mother, Yolanda Hadid, who is aging like fine wine, and her big sister, Gigi. However, Bella's differences, including her very different coloring, sometimes work in her favor, as she and Gigi are rarely ever considered for the same projects.
Bella's been able to establish her own, individual look…and career. Let's see how Bella became the fashionista she is today!
15 Bella Begins
Isabella "Bella" Khair Hadid was born in Washington, D.C. but was raised in Beverly Hills, California. As previously mentioned, she has an older sister, Gigi Hadid, and a younger brother, Anwar Hadid. All three Hadid siblings ultimately ended up becoming models (following in the footsteps of their mother, Yolanda). The three Hadid kids also have two stepsisters, who are older.
14 Horse Girl
Before thoughts of Fashion Week and Chanel gowns entered her teenage dreams, Bella wanted to be a professional equestrian. The Hadid family is very wealthy (thanks to their real estate developer father, Mohamed Hadid). Therefore, the Hadid children grew up riding horses (this isn't a low-cost hobby!) and acquired a deep love for everything equestrian.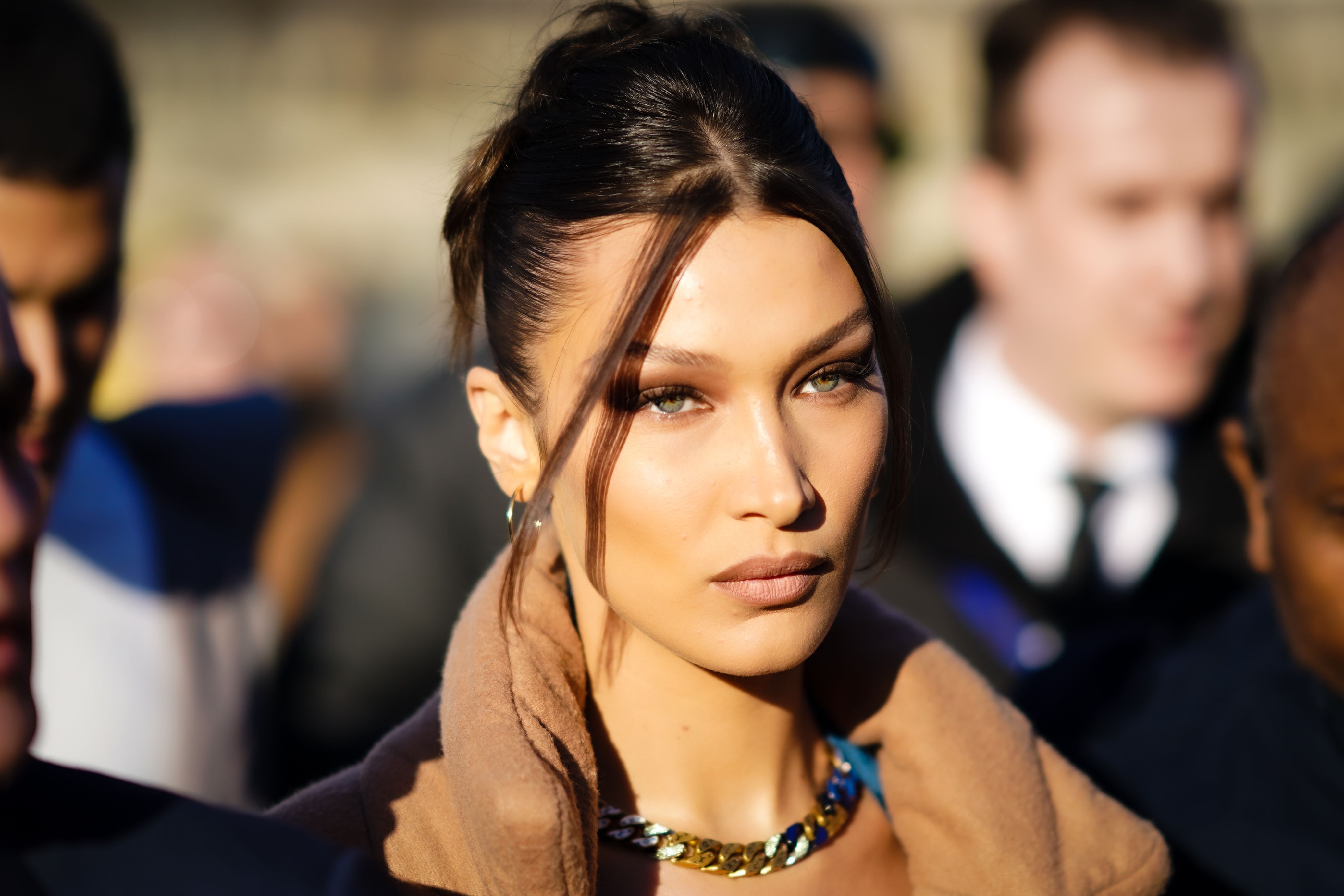 13 Amateur Model
Despite her earlier interest in riding horses, Bella ultimately decided she'd like to become a model (like her uber-successful sister, Gigi). Unfortunately, Bella didn't receive the same attention or excitement Gigi garnered from the fashion world. However, she was able to book some commercial projects when she was sixteen years old.
12 Fashion Week Debut
Bella's modeling career took off after she debuted at Fashion Week, walking for Desigual in 2014. Gigi made her debut with the same designer in the same year (but earlier in that year). This Fashion Week debut signaled the start of Bella modeling for bigger, more expensive designers and brands.
11 Gaining Some Ground
In just a year, Bella went from her Fashion Week debut to walking the runways for Diane von Furstenberg (DVF), Tommy Hilfiger, Jeremy Scott, and Marc Jacobs. Finally, Bella was starting to be seen as her own person. She wasn't just Gigi Hadid's little sister. She really found her own niche.
10 The Weeknd
It wasn't all work and no play for Ms. Bella Hadid! She dated The Weeknd from 2015 to 2016. They weren't exactly a match made in heaven. The bad boy hip hop star and gorgeous supermodel were on and off throughout that year…they just couldn't seem to make it.
9 What An Angel
Despite the bad breakup, Bella had something wonderful to look forward to – The Victoria's Secret Fashion Show! Proving she was just as good as Gigi, Bella walked the glittery catwalk in November of 2016. Of course, The Weeknd performed for that very show…and Bella had to walk right past him. 8 DUI
Bella is the black sheep in her family, not only because of her gorgeous brunette hair but also due to her darker past. In 2014, Bella was caught driving under the influence. The interesting thing is, she was only 18 years old at the time; so she shouldn't have been drinking at all…
7 Award-Winning Model
Let's fast-forward to more recent times; Bella won Model of the Year at the Daily Front Row's Fashion Los Angeles Awards in March of 2016. This happened when she and The Weeknd were in one of their 'on' phases. Hopefully, this was one of their more agreeable nights. It was quite an honor for Bella to get the award!
6 Plastic Surgery
Although she continues to vehemently deny it and probably always will, Bella Hadid looks like she got plastic surgery. Over the years, more and more people started to notice (and comment on) her facial transformation. Her nose and cheekbones seem a lot more defined now than they did just a few years ago.
5 Popular Girls
Her face may or may not be tweaked, but her friendship with Kendall Jenner definitely isn't artificial. The two have known each other since high school. Both were kids with rich and famous parents, so they had tons in common from the very start. The two have stayed super-close, even as super-successful models.
4 Music Video Maven
In December 2015, not too long after becoming his girlfriend, Bella starred in The Weeknd's music video for, "In the Night." She moved about the set in a sultry, almost bored manner, looking extremely modelesque. The song was a hit and The Weeknd got to show off his pretty lady!
3 Activist
When President Trump banned the citizens of various Muslim countries from coming into the United States, Bella Hadid took to the streets! Having a Dutch mother and Palestinian father, Bella couldn't support this new immigration policy; so she, along with Gigi, marched in the "No Ban, No Wall" march in 2017.
2 She Adores Dior!
In 2016, Bella became the ambassador for Dior makeup. She was featured in a multitude of advertisements and even starred in some YouTube videos, showing fans which Dior products she uses and how she applies her makeup. This was a great opportunity for Bella, with a blue-chip cosmetics brand.
1 School Daze
Despite all the success and fame she's gotten by modeling, Bella wants to return to school. She dropped out of Parson's School of Design years ago (she was studying photography). If she were to go back, she'd study Fashion Photography. She also has an interest in acting.