Peaky Blinders
'Peaky Blinders' Season 6: Director Says They're 'Finished Cutting the Final Episode,' Gives New Season Update
Fans can't wait to revisit the Shelby family in Peaky Blinders Season 6. The new season of the series will be the last, and season 5 ended on a cliffhanger regarding what happens to Thomas Shelby. So far, we've heard plenty about what's to come from director Anthony Byrne and showrunner Steven Knight. And Byrne just gave fans another clue regarding how far along the show creators are to finishing the final season.
Director Anthony Byrne talked about what's to come in 'Peaky Blinders' Season 6
Peaky Blinders Season left fans with more questions than answers. Thomas Shelby hoped to assassinate Oswald Mosley at a public event, but his plan went awry. Someone on the inside knew what Tommy hoped to accomplish and sabotaged the plan. At the end of the season, Tommy's talking to the ghost of Grace Shelby. She seems to suggest he should ɗ𝔦ᥱ, too, so he can be with her. Tommy then raises a gun to his head and yells.
Did Thomas Shelby ɗ𝔦ᥱ at the end of season 5? While it seems like the season was headed in that direction, it's verified he's still the star of the show in Peaky Blinders Season 6. And it seems we'll also see who betrayed Tommy in the new season.
Director Anthony Byrne spoke to BBC's podcast, Obsessed With …, about Michael Gray possibly betraying Tommy. "It's certainly set up that way," Byrne said of Michael. "That's very much at the forefront of what we're kind of heading into."
Anthony Byrne posted to Instagram that he's 'finished cutting the final episode' of the new season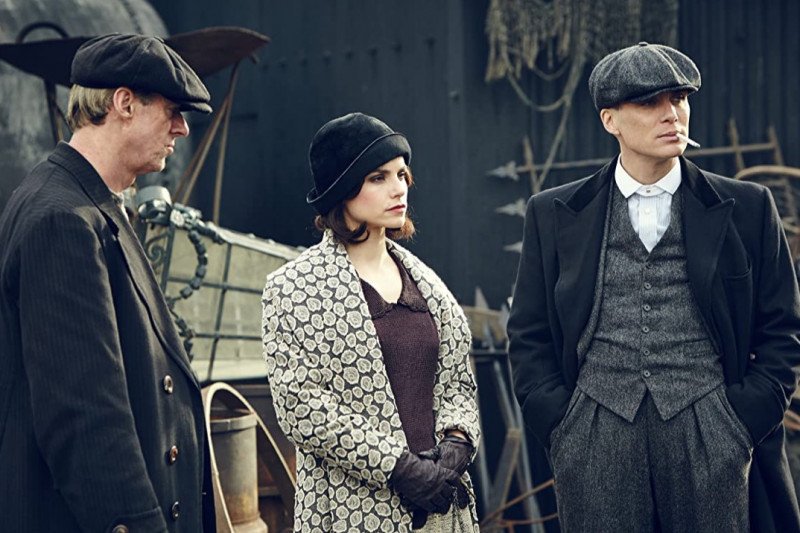 While Byrne and Knight continue to talk about their plans for Peaky Blinders Season 6, Byrne just gave a major clue that the new season will be here before fans know it. On Nov. 10, 2021, he posted a photo to Instagram of him and Knight standing on a tree stump dressed warmly for cold outdoor weather. It appears they were working on some aspect of the new season.
"We just finished cutting the final episode of Peaky," Byrne captioned his post. "Still, a lot more to do, but spending the last months with this talented f— has been a great pleasure. He's a great friend and collaborator and I couldn't do what I do without him pdknight." Byrne then ended his caption with, "Why we're in a field on a tree is as much a mystery to you all as it is to me … !"
Fans couldn't be more excited for the new season, too.
"Oh my, I can't wait to finally enjoy S6, we've been waiting for so long," a fan commented on the post.
When is the 'Peaky Blinders' Season 6 release date?
When will fans finally get to see the Shelby family back in action? The BBC and Netflix haven't yet provided the Peaky Blinders Season 6 release date. But one of the stars from the new season gave a clue.
"That comes out, from what I last heard —  I mean, these things change so quickly -– I think that will come out next February, the beginning of next year," actor Conrad Khan told RadioTimes.com. "There was so much footage, so many episodes, that it does take a while to edit –- six months or something."
Until then, we look forward to more sneak peeks regarding what's to come.